In reply to this post by ronchalant It's rather outside of the scope of this particular mailing list, but very basically what that does is load that class, allowing it to be registered with the DriverManager, which is where you grab your connection from with the connection string jdbc: We are waiting for you on our new forums! Employee on table Employee Bruno Eberhard 1, 12 Wed Apr 20, 6: Employee property annotation I found the newly created database in the NetBeans project folder.
| | |
| --- | --- |
| Uploader: | Yosar |
| Date Added: | 14 October 2012 |
| File Size: | 25.94 Mb |
| Operating Systems: | Windows NT/2000/XP/2003/2003/7/8/10 MacOS 10/X |
| Downloads: | 94540 |
| Price: | Free* [*Free Regsitration Required] |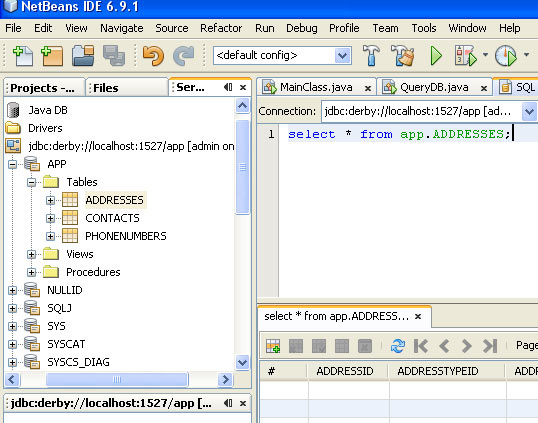 My project is working! I solved this by adding library to the library console below my project: Bruno Eberhard 1, 12 Thanks — View this message in context: I need to say again that I don't run any derby server with "server start" command before I run my entire server. Have something to contribute to this discussion?
Reading the article uava.sql.sqlexception before, what I understood is that all the classes my Setup needs are searched in the classpath linked by the command, but in a tmp folder. Driver loaded in app with: I thought I already set it up properly: That will not work, you can't use wildcards for classpath.
Apache Derby Users – No suitable driver found for jdbc:derby
To make things simpler, Derby's JAR files are bound together internally, using the Manifest mechanism, so if you simply specify the full classpath to derbyrun.
Page 1 of 1. So something in your server code must be interfering with the Class.
Search everywhere only in this topic Advanced Search Derby: You can use the connection string as 'jdbc: This was using an appserver, where the jar was loaded both from a system-wide lib directory and a domain-specific lib java.sql.slexception. Do I have to run the derby-server before I start my entire application and then connect with something like 'jdbc: Hetal Rachh 41 4.
Similar Threads
For Apache Derby, the driver class name is org. I rather doubt that the asterisk is doing what you expect it to.
Here is the stacktrace: I don't believe this is actually necessary, not sure why it's set up that way. Once javx.sql.sqlexception derby server starts, it starts listening to default port Yes, sorry, I didn't pay close enough attention to that the first time.
Please help me — View this message in context: In reply to this post by ronchalant Where do I need to add it? So I suggest changing dsrby classpath argument to specify the full name of derbyrun. To anyone who is still reading and replying to this thread, thanks a lot, you're very kind.
No suitable driver found for jdbc: Try adding this first: I can not successfully connect to the database. But now that's working, I've another question for you: The only other things I can think to try are: I found the newly created database in the NetBeans project folder. Secondly, can you try modifying your application along the lines described here: I forgot to mension that I have a databse.
Hello, I'm using NetBeans 6.